---
Euroimpex - software producer, distributor and technological partner of the largest global concerns
We are a producer, exporter, importer, distributor and technology partner of the largest global concerns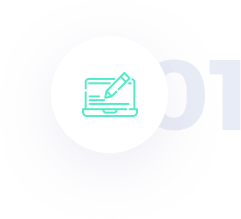 We create modern software
---
—   for companies, administration, schools
and libraries
---




Euroimpex S.A. has been on the market since 1989. We offer modern software for companies, education, as well as libraries and the administration sector. Our Documaster cloud solutions provide real support in the area of dissemination and control of access to the resource of materials placed in the so-called the cloud. We create business solutions that reduce the cost of document production (copies and printouts) and ensure full security and confidentiality of documents and personal data processed (in accordance with the GDPR). We provide schools and universities with high-class equipment and software that integrates modern educational tools and digital resources: e-textbooks, teaching materials, digital resources of universities).
---




Our company also offers assistance in the implementation of programs for companies, schools and universities, offices and service of printers, copiers and multifunction devices of such brands as Ricoh, Nashuatec, Epson, Sharp, Brother, Canon, Infotec, Lanier, Gestetner, Rex Rotary and others..
We also conduct training in the use of cloud solutions for micro, small and medium enterprises, co-financed by the European Union. We are a company registered in the Office of Development Services, the National Training Fund and we are a Microsoft Education Partner.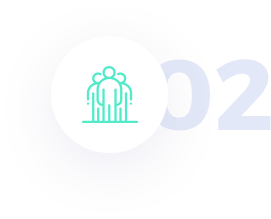 We implement products and train our clients
---
—   we provide technical assistance and service for integrated devices
---
---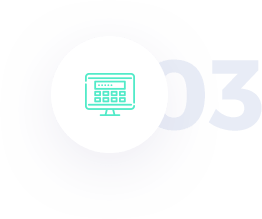 We integrate ours solutions with devices and systems
---
—   Documaster software is integrated with multi-functional devices and other software.
---
---
Documaster software is standard integrated with Microsoft Office 365 software. For the needs of our clients, we integrate multifunction devices with other elements of IT systems. It is possible to individually integrate devices with ERP, workflow, archiving, OCR and other systems. At the client's special request, we customize the interfaces and also integrate our software with other IT solutions, such as electronic logs, Google Drive, etc.
---
Charity and social activity
From the beginning of its activity, the company has been strongly involved in charity and pro-social activities. Euroimpex S.A. in 1997-2015 she created a sheltered workshop for people with disabilities, which has been repeatedly recognized by the Lodolamacze award.
The person representing the Company's Management Board in charity and social activity is the Managing Director at Euroimpex S.A., Barbara Pokorny. Ms. Barbabra Pokorny is the President of the National Council of the Polish Organization of Disabled People's Employers, as well as the Vice-President of the Council of the Western Chamber of Commerce - Employers and entrepreneurs.
The company is also involved in helping hospitals and hospitals, but also supports entrepreneurship as a long-term sponsor of the Lower Silesian Gryfs and culture, being a Friend of the National Forum of Music and by composing Vratislavia Cantans.
---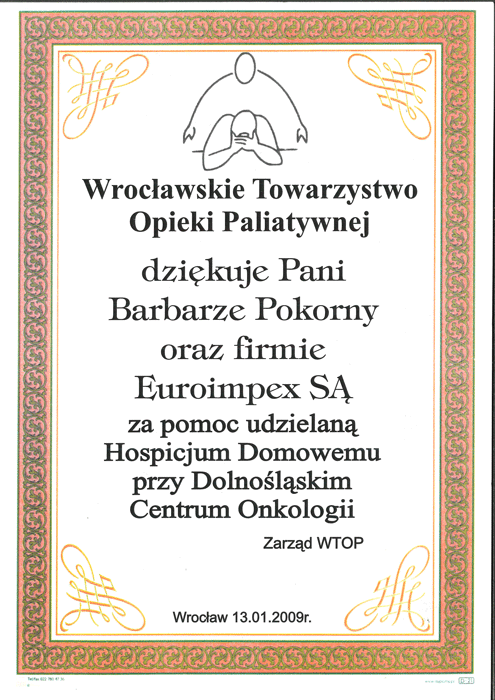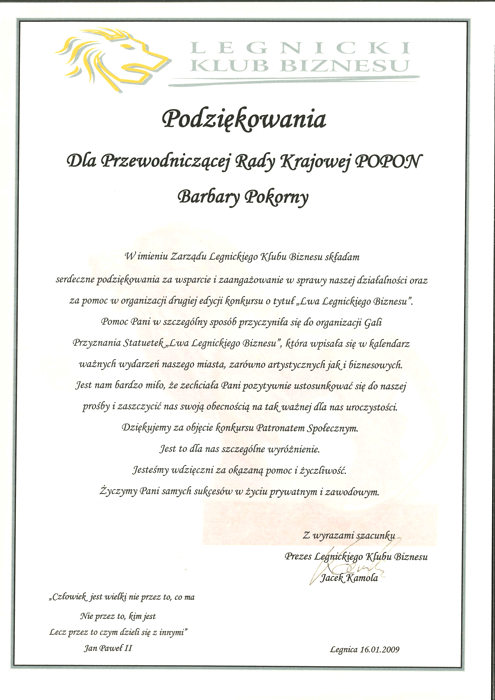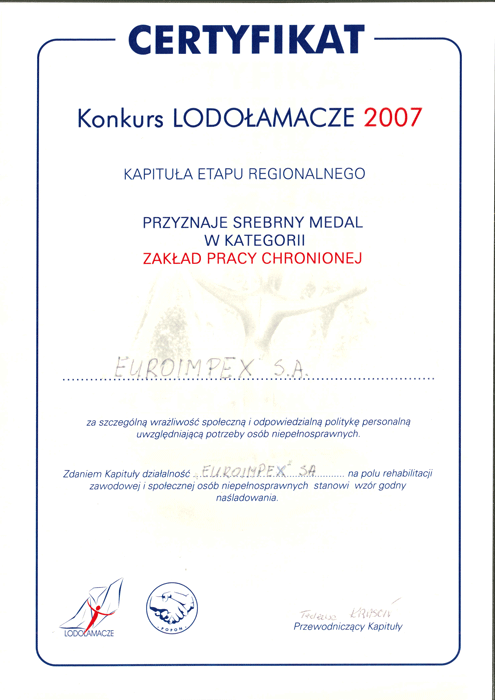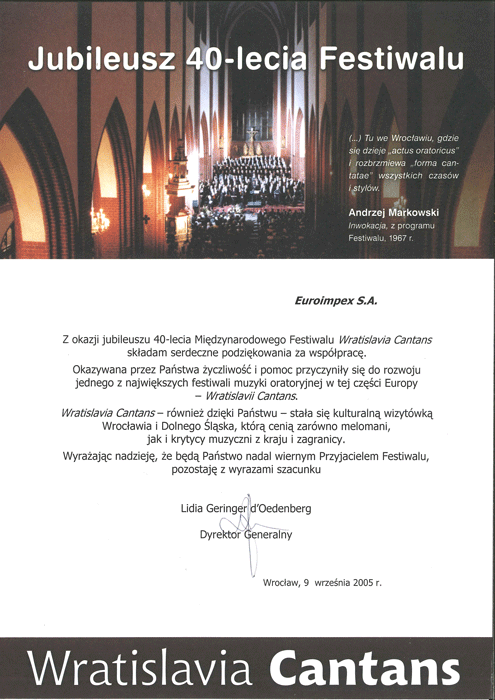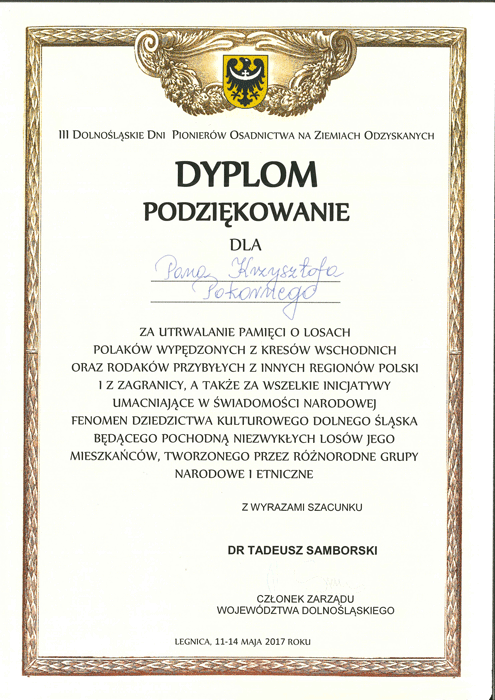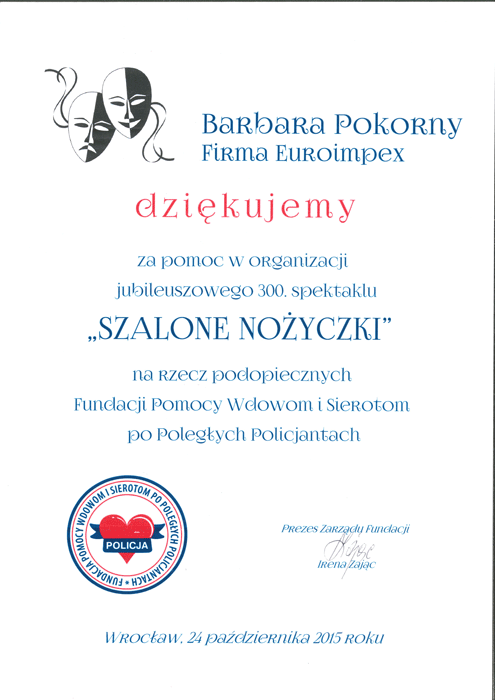 ---
---
Awards, distinctions, certificates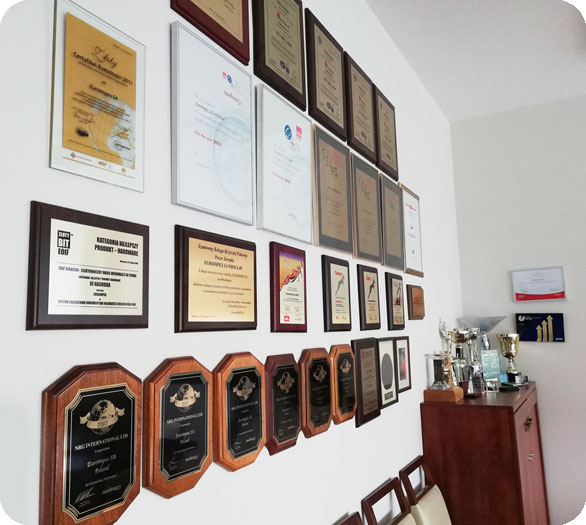 ---
Euroimpex S.A. has won many awards. The awards include
- - Golden Bit 1st Award has been granted several times - Electronic Information Circulation in the Company,
titles awarded many times in the Gazelles of Business ranking,
Nashuatec Quality Solutions Partner title,
Nashuatec Outstanding Performance and Toshiba Top Team titles repeatedly awarded,
Debut of the Year distinction awarded by Microsoft Business Solutions.
We are also a reliable and responsible social company, which is confirmed by, among others Certificates: Gold Certificate of Reliability, Reliable Company, Transparent Company, as well as the Lodołamacze award.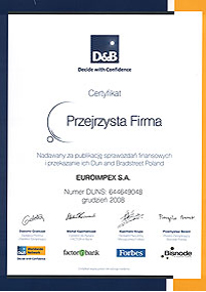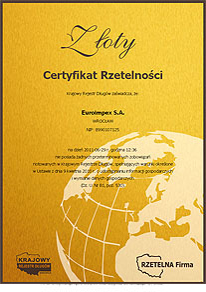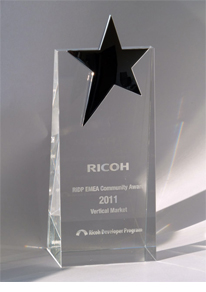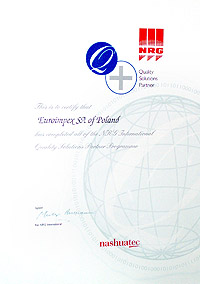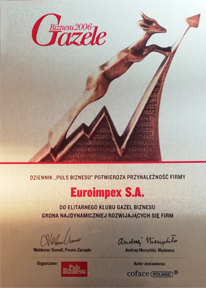 We have certificates:
ISO 9001: 2015, confirming the quality management system,
NCAGE 2496H (NATO Commercial and Government Entity Code) - Certificate confirming the award of NATO Code of the National Economy Entity,
PN-EN ISO/IEC 27001: 2017-06 - confirming that the produced software, processes, services and procedures meet the global standards of Information Security Management.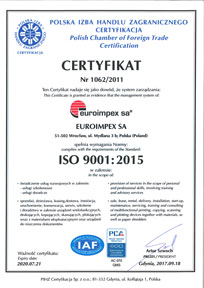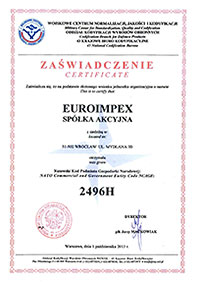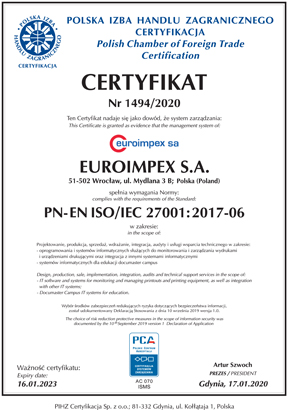 ---
The largest spare parts warehouse in Poland
Our spare parts warehouse is located at the company's headquarters in Wrocław. It is perfectly equipped with spare parts for the equipment of all our partners. Thanks to this, our Service Department and Service Partners are able to respond very quickly to any service requests.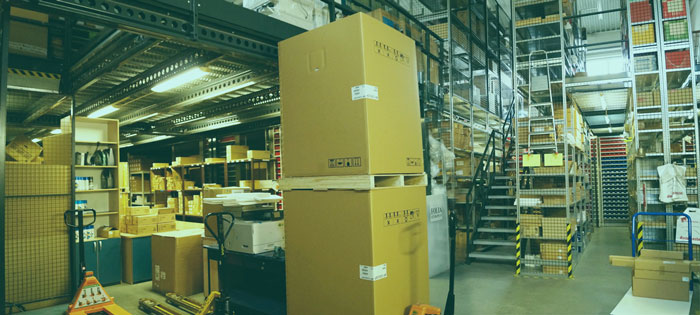 ---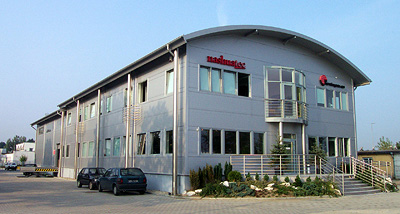 Partners throughout Poland
We work with over 120 partners and almost 400 service technicians throughout the country.

The company's headquarters is in Wrocław.
---
---