Manufacturer of Documaster software, supplier of services and equipment for companies, education and administration

---

Equipment and online shop
---

---
Printers, MFPs, projectors, monitors, computers, TVs and much more - further information
---
---


---

For
education
---

---
Solutions for primary and secondary schools, vocational schools and universities.
---
---


---

For
business
---

---
Solutions as well as cost and environmental audits for micro, small, medium and large enterprises.
---
---


---

For
administration
---

---
Solutions for local governments, public offices and public administration institutions.
---
---

Production and distribution of equipment
---
— we are a manufacturer, exporter, importer and distributor of equipment
---
We are also a manufacturer of equipment that complements our IT solutions: payment terminals, paper dispensers and cash deposit machines.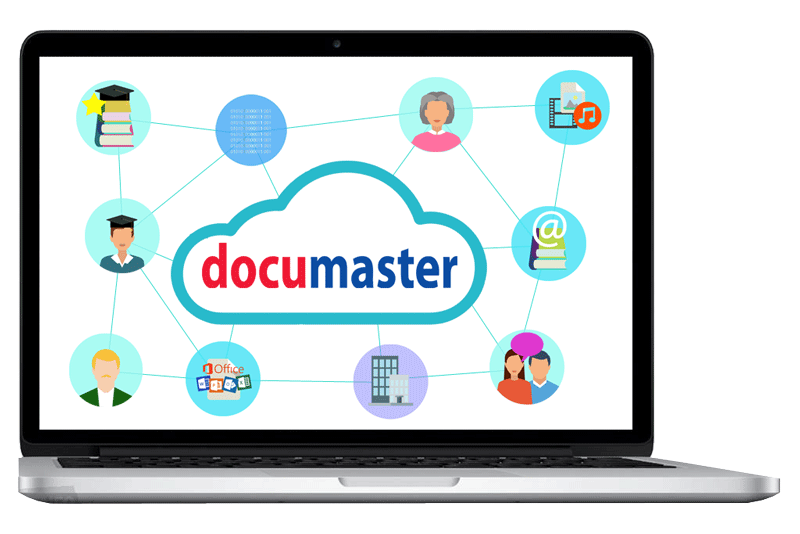 Documaster Software
---
—   modern solutions for education, business and administration
---
We are a producer of Documaster software. Our cloud solutions provide unique support for the distribution and control of online access to company documents and materials. We create solutions for business that allow for the reducing of printing costs and ensuring full security and confidentiality of documents and processed personal data (in accordance with GDPR). We provide schools and universities with high quality hardware and software that integrates modern educational tools and digital resources, e.g.: e-books, didactic material, digital university resources.
Implementation and training
---
—  we offer training on how to use our solutions
---
On top of professional and modern software, our company also offers assistance in implementing programs in companies, schools, universities, public offices, libraries, kindergartens and museums.
We provide training in the use of software and integrated equipment for pupils, students, teachers, lecturers, public administration employees, libraries, museums and companies. We offer training in using cloud solutions for micro, small and medium-sized enterprises, co-financed from European Union funds. Our company is registered in the PARP Development Services Office and we are an Educational Partner of Microsoft.
References: education
---
— A large state university with over 2,500 employees and over 8,000 students.
---
We have implemented a comprehensive service that enables students and academics to use the digital scientific resources stored in the Documaster Campus cloud. Each user has an account through which they can access publicly available scientific material, such as: e-scripts, tutorials, audio and video lectures, presentations, etc. In addition, over a dozen colour multifunctional printing devices with a cash payment system are also available to users.
References: business

---

— A large company from the energy sector with over 8,000 employees.

---
We have implemented an integrated system solution for printing, copying and scanning documents based on Documaster Multiaudit and Documaster Service software and 66 new multifunction devices. Documaster Multiaudit is used for monitoring and the accounting of document production costs, while Documaster Service is responsible for monitoring a total of more than 150 printing devices, located on the premises of the company. The system implemented by us has simplified and accelerated all activities related to the production and distribution of documents in both electronic and paper form, and enabled lowering printing costs by more than 30%.
The environment is very important to us
---
—   that's why we provide environmentally friendly equipment and create environmentally friendly software.
---
Documaster software was created with "zero waste" in mind. By using the cloud system and electronic materials (company documents, e-books, e-workbooks, audiobooks, tutorials), users have reduced needs regarding the purchase and printing of documents. The use of electronic versions of documents is very convenient thanks to software integrated with tablets, computers and smartphones, as well as interactive monitors, projectors and visualisers. This leads to a tangible reduction in electricity consumption, paper, CO2 emissions, etc.
However, we are aware that no company, school or administrative institution can function without printouts. For this reason we offer our customers devices with a limited effect on the environment. We carry out environmental audits on the basis of which we implement solutions that allow us to reduce the production of electro-waste, emissions of CO2 and negative substances produced during the printing process, as well as power consumption. To this end, we not only implement devices that use much less power than other devices available on the market (even 96% less), but we also supply them with renewable solar energy. Our special sets comprising of a multifunctional device + panel are fully independent and allow for continuous uninterrupted work.
What the numbers say about us
---
Find out facts and achievements of our activities.
---
---
500+
successful implementations in schools, companies, public offices, etc.
---
150 000+
users of Documaster
---
30+
years of experience in the IT and office automation market
Technological and business partners
---
— integration and distribution of equipment
---
We are a technological partner and distributor for renowned global corporations. We are the exclusive authorized distributor of Nashuatec in Poland, distributor and technical partner of Epson, Ricoh, Sharp, Dynabook, Acer, Lenovo, Canon and Dell, and an Educational Partner of Microsoft. Our Partners' products are available in our online shop Otoszop.pl. We integrate multifunctional equipment (print/copy/scan) with our software and deliver them together with interactive monitors, computers, laptops, scanners, projectors and visualisers to schools, kindergartens, universities, companies, public offices, libraries and other institutions that use our services.